The Winter 2012 issue of "Watercolor" magazine again featured an article on Mike Killelea's plein air watercolors and his approach to painting and teaching.

Click here to download a PDF copy of the Winter 2012 "Watercolor" magazine article "Painting Off the Beaten Track"*..

The 2006 annual issue of "Watercolor Highlights" was headlined "20 Painters Share Their Secrets". This annual compilation of the best in watercolor painting, included a story on Mike Killelea's travel paintings titled "China, From the Tip of a Brush" which had been printed in the Spring 2005 issue of "Watercolor" magazine.
Click here to download a PDF copy of the Spring 2005 "Watercolor" magazine article*.

* As published in 'Watercolor' magazine, Spring 2005 and Winter 2012. Text copyright held by VNU Business Media, 770 Broadway, New York, New York 10003
Click on a location below for a
PDF sample of paintings done there:
Iberia / 2018:Click here
Costa Rica / 2018:Click here
Tahiti / 2017:Click here
Norway / 2017:Click here
Iceland / 2017:Click here
Hawaii/ 2017:Click here
Mississippi River / 2016:Click here
Arizona Thorns/ 2016:Click here
New Orleans / 2015: Click here
Ireland / 2014: Click here
Rhine & Mosel / 2014: Click here
The Balkans / 2014:Click here
Burma / 2014: Click here
Russia / 2013 : Click here
Portugal / 2013 : Click here
France & Brittany / 2013: Click here
Cuba / 2013: Click here
Viet Nam / 2012: Click here
France & Rhone Riv. / 2012: Click here
Africa / 2011: Click here
Elba in E. Europe / 2011: Click here
Chile & Argentina / 2011: Click here
India / 2010: Click here
Danube in E. Europe / 2010: Click here
Maui & Los Angeles / 2009: Click here
Arizona & Florida / 2009: Click here
Tuscany & Sardinia / 2008: Click here
Australia & N.Zealand / 2008: Click here
Sicily / 2007: Click here

Painting on Location, Everywhere
Michael Killelea is an artist, author, teacher and traveler.
Growing up on Long Island, NY, most of his life was spent on or near the water, although he now lives in the rural western NY. He's a US Navy veteran and an avid outdoorsman, two parts of his spirit which are reflected in the dance of light and shadows throughout the wide natural world he paints. In spite of his sometimes frantic efforts, he never seems to have enough time to capture the beauty he see's at every turn. Killelea is an inveterate "plein-air" painter who feels that the watercolor medium is most alive when painting on location, and he takes delight in sharing that joy with his students, no matter where they are. He has traveled extensively, almost always with paint and brush, recording his impressions of people and places around the world. (Check out a sample at bottom left.)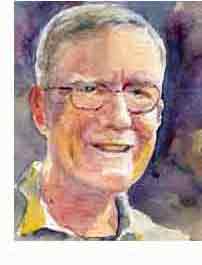 Killelea's work and biography have been included in the Smithsonian Institution's Library for the American Art Museum/National Portrait Gallery, the Library of Congress, the Watson Research Library at the Metropolitan Museum of Art, and those have become the basis for permanent files on him. He has been included in the Burchfield Penney Art Center data base as one of 215 best past and present artists in Western New York. One of his works was singled out by Buffalo Spree magazine as the best representational watercolor out of 670 pieces in Burchfield Penney's "The Artist Among US II" exhibition. His watercolors have additionally been featured at the BJ Spoke Gallery in Huntington, NY, the Marineart Gallery in Manhattan, the Terra Cotta Gallery in Cutchogue, NY and in numerous local exhibits elsewhere. They are currently on display at the Castello di Borghese vineyard in Cutchogue, NY. 57 of his works were featured in a major solo exhibition at the New York Mercantile Exchange in NYC.
"I love painting
in plein-air.
There is an immediacy on location that demands an honesty from any artist willing to put themselves at the mercy of the elements. An artist can't experience a scene in a studio quite the same way it's possible to do outdoors. For me, this is one of the purest forms of painting because success demands
a very deliberate approach.
I find that painting outdoors is usually a very intense and even physical experience."
His marine paintings have been displayed in dozens of group exhibits in US museums, and his work has also been shown in numerous gallery and commercial venues. Two of his paintings were part of an exhibit in the Capital Building in Washington, DC and became part of the US Navy Museum collection in Washington.
He is the Secretary and on the Board of Directors of the American Society of Marine Artists (ASMA), and is a Signature member of the Society. He is on their Exhibition Committee and was Chairman of ASMA's Regional Exhibitions and originally maintained ASMA's website. He's also a Signature member and on the Board of Directors of the Niagara Frontier Watercolor Society, a former Board member of the Niagara Arts & Cultural Center in Niagara Falls, NY and a signature member of the Buffalo Society of Artists. Killelea is a graduate of SUNY Farmingdale and has attended Pratt Institute and the School of Visual Arts. His work is in numerous private collections, has been reproduced on book and magazine covers, posters, prints & greeting cards and is featured in two books he wrote and illustrated about Long Island's rural North Fork.